One of my earliest memories making food is from my older brother's high school prom night. Instead of going out to dinner, my brother Jeff and his friend decided to cook dinner for their prom dates.
So, on a Saturday afternoon, my family set up a mock restaurant in our Colorado basement. A card table was dressed with a table cloth, candles, and our nicest wares. Meanwhile, Jeff and his buddy prepared a multi-course meal complete with a printed menu.
My role for the evening was to be the waiter 🤵🏾. As an eleven-year-old donning black slacks, a white dress shirt, and a bow tie, I showed the two couples to their table, served drinks, and brought out course after course.
As the group polished off their mains (shrimp linguine), my mother prepared her strawberry crêpes for dessert. She asked if I would assemble and plate the crêpes. So with her guidance, I rolled each thin crêpe around spoonfuls of strawberry compote and sporadically drizzled melted chocolate on top.
"Good job, Kiwi," my mother said as I put the finishing touches on our final course. As of that moment, I felt like her plating specialist. I contributed to the dish. I helped make that fancy dessert. I helped make the food.
Crêpes were served, and our dinner guests left for the dance. While cleaning up, I found a $20 tip on the table.

My journey making food started with my mom delegating kitchen tasks.
From plating crêpes to rolling California rolls to frying chả giò (Vietnamese spring rolls), I helped with certain dishes on certain occasions growing up.
Living on my own in college was a turning point. Making food became my responsibility. I had to feed myself, and I welcomed it. I made extravagant Super Bowl weekend breakfasts with my crew, compared chicken enchilada recipes with my roommate Sean, and delivered homemade chili to a girl whom I never conjured the courage to share my true feelings with.

When I moved to New York for work, making "home food" took on even more significance without me taking notice.
New friendships were sealed over Wednesday yellow-shell taco nights at my apartment. I called home to catch up with mom and ask about her coconut chicken curry recipe. And, there was that sweaty summer day when Yoko and I took a crack at homemade hot wings after we started dating.
"If you could eat anything right now, what would you eat?"
I ask that question to my (now) partner, Yoko, almost every night before we fall asleep. 90% of the time she answers, "Ramen." Meanwhile, I spout off new foods we might bring to life in our kitchen: tamales, saag paneer, lasagna, elote, spam musubi, pizza, bánh xèo…
When Yoko and I cook together, I joke that we move in the kitchen "like a dance." (Pronounced: "like a dawnnnncee.") She typically chops. I run the stovetop. Our limbs weave quickly in and out and around each other as we grab utensils, add ingredients, and season our food.
Psychologist Mihaly Csikszentmihalyi popularized the term "Flow." He describes flow as:
"A state in which people are so involved in an activity that nothing else seems to matter; the experience is so enjoyable that people will continue to do it even at great cost, for the sheer sake of doing it."
If that's flow, then flow for me is making food. Whether frying eggs in the morning or heating casserole stew at night, I never regret making time to make food.
"No one in the world has ever eaten this before."
Sometimes when I sit down to eat, I reflect on the distinctness of enjoying that food in that moment. No one has ever eaten a dish with precisely this many grains of rice, this many granules of salt, and all of these other ingredients in their exact quantities.
Every once in awhile, I do think our kitchen produces a legitimate, first-of-its-kind meal. Has anyone else made Aachar Parmesan Popcorn (Aacharmesan™)? Or a hot dog pizza with sesame seeds on the crust (like a bagel)?
There's endless creative potential with cooking. On top of that, making food is impermanent. You make it. You serve it. You eat it.
Hopefully what's left is a meal worth remembering.
Song: Hello Mr. Prince by Otis McDonald
---
Fifteen months ago, I was walking through the Fundació Joan Miró in Barcelona. Yoko and I were at the tail of our Fall vacation. My lower back was bothering me, but Yoko had rallied us to get out of the Airbnb and on our feet that morning.
She thought I would appreciate Miró's artwork. Google had informed us that bedrest was counterproductive for back spasms, and the museum was only a 25 minute walk away.
That afternoon, I stared at bright, irregular shapes across a number of Miró's paintings and sculptures. Those shapes stuck with me for weeks. The faces, too. Simple yet expressive faces (or at least what I saw as faces) gave objects personality.
I left with a coat of calm, creative feels inspired by those friendly shapes.
Fast forward to last March
When we started quarantining in Brooklyn, my anxiety swelled to a distracting hum.
Yoko and I were both privileged to hunker down in our apartment and work from home. But new fears, constant ambulances, and the unknown of what would happen to me, my family, my friends, my neighbors and my city roiled beneath my surface.
So, I started drawing on my iPad.
I itched for a new form of creating. A medium that didn't involve a mouse or keyboard. A form of expression that didn't require words to capture a mood.
Drawing and illustration has been a marvel to me. What artists can produce with strokes of pens, pencils and programs often feels unbelievable. And up until last year, I couched my own drawings as "doodles" or "diagrams." They were part of my process at work, never "making art."
When I started coloring in my first shapes using the Procreate app, I wanted to channel the vibe I inherited from that afternoon with Miró's work six months earlier. For whatever reason, I also found myself pulling ideas from those painfully cute Japanese characters like Gudetama and Sumikkogurashi.
That's where I was at. I wanted chill. I wanted colors. I wanted friends. I wanted calm self-expression.
I titled my first drawing "Still Hungry."
I remember feeling lighter as I filled in the oblong shapes with hot dog colors. My mind had transported above myself for a half hour or so.
So, I kept drawing—whenever I was in the mood to capture a mood.
Or a feeling.
Or an experience.
Or a meal.
I drew on good days.
And so-so days.
Reflecting now, it was less about what I made and more about how I felt while making it—engaged, calm, untethered but connected to my current state.
Since March, I've drawn about 50 of these mini-artworks. I call the collection, "Friends With Shapes."
I printed a few Friends With Shapes for the first time last week.
Yoko's late father had held onto a gigantic Canon Pixma Pro 100 printer for years without using it. Canon weighs almost 45 lbs 😅. He had hunted down this deal for a free printer when he purchased a DSLR.
He believed Yoko and I would make use of it someday. We finally gave it a home in my office setup. I used the Canon last week to print a 13×19'' version of my latest friend, titled "Electric Feels"—my most ambitious drawing yet!
The drawing was inspired by watching Song Exploder on Netflix, specifically the episode where Alicia Keys and Sampha co-write the song 3 Hour Drive. I felt something watching that! I loved how they connected. They explored. And they uncovered a song they didn't expect.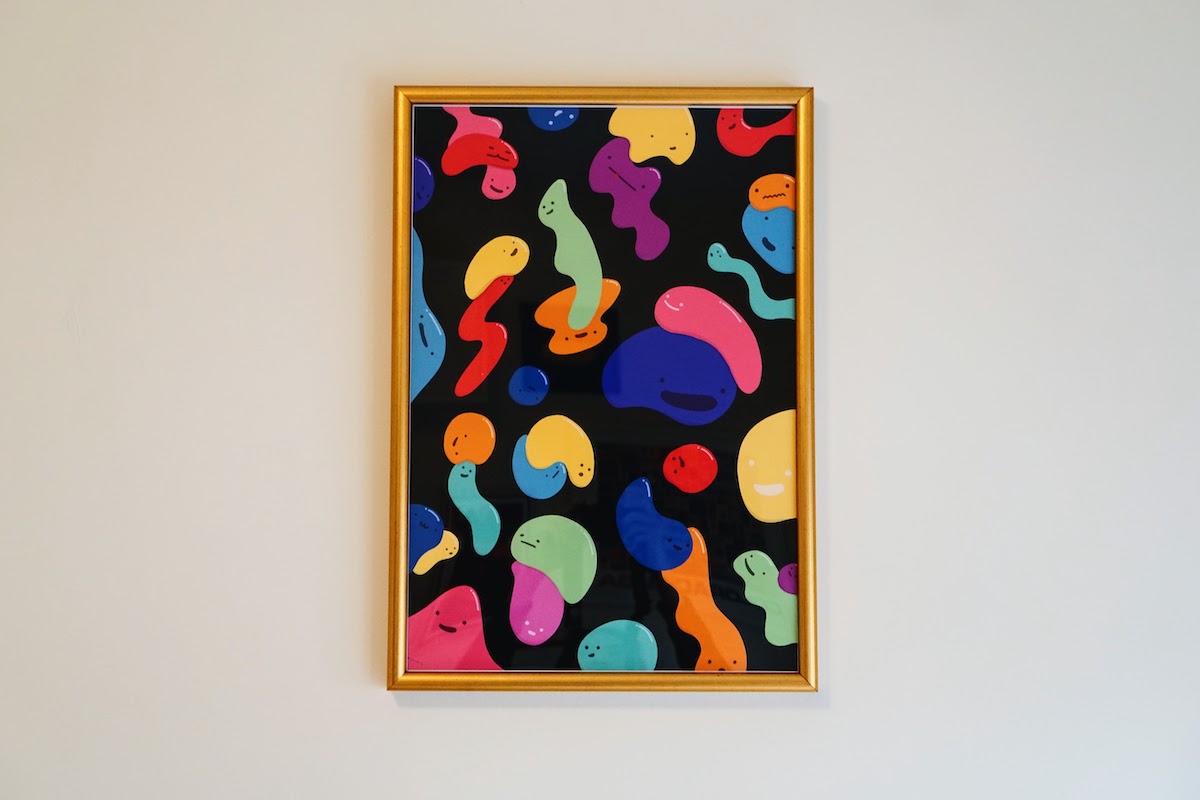 Looking at this latest print on my wall brings me joy.
It reminds me of dancing in clubs with Yoko before we started dating.
It reminds me of the music my brother likes to DJ.
It reminds me of being in the flow, outside of yourself, when the unexpected connects.
---
My friend Gary Chou shared with me that "climbing the ladder" is a faulty analogy for navigating a career. What's a better analogy? Sailing.
Caveat: I've never sailed 😬. But… making decisions about work and in my case building a small biz has felt akin to what I imagine it's like to sail open waters. You develop a sense of where you're headed. The seas change. Winds pick up in certain directions. You adjust, and do so continually.
2020 felt like sailing unpredictable waters with my team in separate boats. We clung to out-of-reach destinations, recruited new crew mates and savored both painful and beautiful days along the way.
Changing Winds
The partners at People & Company, Kai, Bailey and I, met up in Osaka at the start of 2020 to lay out our "WOOP": the Wishes, Outcomes, Obstacles and Plans for the year. The north star that emerged was to "Build the business."
We were on the heels of publishing Get Together.  There was an uptick in inbound interest for our community strategy sprints and labs. Bailey and I moved into a new Chinatown office. And, we set the clearest goals in our partnership's short history around revenue and book sales.
A few weeks later, we were wrapping two days of client strategy sessions in NYC as COVID swelled. I remember asking myself, "Is this one of the last times for awhile that we're gonna work like this? In-person, in the same room… Is how we work about to change?"
Alongside the majority of people on planet Earth, our daily lives did change. From a business standpoint, the hardest part wasn't adjusting our approach with clients or going virtual as a team. The hardest part was letting go of those goals we set together in Japan.
We had the privilege last year of working with clients across sectors and around the world—each connecting people in innovative ways. From government partners like GIC (Singapore's sovereign fund) and Export Development Canada to startups like Substack and Special X to nonprofits like Future Now and the Surfrider Foundation. We offered guidance and facilitated finding clarity.
But as Bailey put it at our EOY retro:
"We had set a bar for success. People & Company had a revenue goal. For the first time in awhile! And like two Straight-A students, Kevin and I drowned ourselves trying to reach that bar."
As it became clear we would fall short on our revenue goals we took it as failure, even during this pandemic. We didn't stop to ask, "Are those goals the right goals right now? Do they need to change? Do they capture what we're really after?"
It's taken time and a reframe to say that we are proud of last year—the 2020 iteration of P&C. We made six-figure revenue. We sold almost 5,000 books. We worked with 30+ clients in different capacities. We are in business and grateful to remain partners.
Writing now, my toxic stubbornness around our goals feels silly. But sometimes we fall in love with destinations. And it's hard to acknowledge that perhaps we need to change course or stop off to resupply along the way.
Taking Care of the Crew
Like countless others, our team canceled plans, postponed weddings, kept distance from family and friends, and grieved lost loved ones. These were heavy moments. I personally hit a wall—feeling roasted by the time we reached Thanksgiving.
We also experienced joy. We jumped rope, made food, welcomed new family members into the world, settled into new homes, and connected with new communities.
The number one rule at People & Company is this: "We are people first." I wrote two years ago: "Our personal wellbeing and the wellbeing of those we care about is more important than this company."
Today, I'd remix that statement to say, "Our personal wellbeing and the wellbeing of those we care about fuels this company." At least at our scale, People & Company grinds to a halt when our batteries are low. And doing our best to take care of each other, draft off of one another, and not only recharge but also maintain reserves is essential for whatever we do next.
This ship is nothing without its crew.
Adding crew mates
One of the goals we did achieve was to have more humans at our 2020 holiday party. For all of the different organizations we've gotten to work with, our team remained tiny leading up to last year. The 2019 P&C holiday party involved Kevin and Bailey sending a selfie to Kai from a two-person booth at a sushi restaurant.
Our thesis is to build *with* people. Those progressive acts of partnerships enable us to make a bigger impact with a community and often lead to a more fulfilling personal experience. So this year, P&C practiced what we preach. We built *with* more people. We brought on a dozen+ contractors, launched our podcast correspondent program (shoutout to Mia, Maggie, Marjorie and Whitney!), invited pod listeners behind the scenes, signed on new vendors, and even hired our first part-time employee (sup, Katie).
Bringing more people into People & Company became one of the most purposeful aspects of work last year. I felt physically isolated. During a nine-month stretch, I saw Bailey in-person twice and Kai zero times. Not once did I see my immediate family.
But I collaborated with more people this past year than the prior three years with P&C. And at a time where a lot of companies tightened budgets, it felt defiant to compensate more freelancers with more money than we ever have.
I'm proud of that. Paying people to do work they want to do at rates they're happy with is rad. Especially, at this time. Hiring folks is a fulfilling aspect of navigating the small biz world and part of why we set the revenue goals we did.
We may set sail for a certain destination but the crew is what determines whether we enjoy the journey.
—
In my experience, building a business hasn't been a linear path or even a winding one. There's more uncertainty. It takes navigating unknowns and responding to forces at play.
Sailing through 2020 was a next level course for me in navigating change. Setting and sticking to an initial direction, even if you expect to iterate, sometimes just doesn't work. We learned that for ourselves and in our work with our clients
In facing such uncertainty, we were reminded how much your crew matters. So this coming year we're remixing how we partner with individuals and teams. The most valuable service we can offer is being a consistent, long-term partner—spending time with leaders over time, not merely dropping in for intensive moments. (More on that soon.) But if you'd like to partner with us in 2021, you can expect us to go deeper together than one-offs. And know that, as a crew mate, we will expect your attendance at our 2021 holiday party.
For myself, my team, you and the communities you care about, I wish you a safe passage and a supportive crew along your own journey this coming year.
---
I spoke about my experience coaching community leaders on The Get-Together podcast. Listen below! 🎙🦉
---
Five years ago, an exec coach friend told me:
"Leadership doesn't get easier. You just develop the tools to tackle bigger challenges."
This quote was top of mind today. I've been reflecting on the ~30 conversations I've had  this year as a coach to community leaders, organizers, and managers. Nearly every work day for the last seven weeks I've spent an hour, usually 1:1, with community leaders working through their big challenges.
The experience has lit my brain on fire. I made a resolution to do more coaching because I wanted to help more people get their people together. These coffees and Google Hangouts quickly evolved into my daily source of motivation. Every day, my business partner Bailey sees me with my post-coaching buzz. The leaders I meet gain clarity from talking out strategy and structure. In turn, they inspire me with their commitment to other humans.
They're out there—building communities of women, creators, moms, scientists, artists, activists, models, POC, Asian Americans, educators, meditators, founders, employees, LGBTQIA, gamers, designers, developers, musicians, athletes, baristas, and more. Sometimes as an organization, sometimes as individual people people.
Here are three reflections, notes to myself, as I grow as a coach.
1. Jamming with others is a lot more fun than talking at them.
In his book, The Coaching Habit, author Michael Bungay Stanier declares that if you take one thing away from his coaching lessons it should be to ask more questions.
Before these meetings, I'd often jump in with tips/tricks/lessons. But this year, I developed an aversion to doling out advice in conversation. In each session, after getting to know the leader and their community, I focus on teasing out their key challenge with my questions. Some challenges are important, urgent, both, or neither. When you find the right challenge to press on, it's like a domino. If we can move it, other aspects fall into place.
After identifying a challenge to go deeper on, the questions continue. Different communities have different context and different cultures. How can I assume to know the best course of action? I might believe in certain principles (like the power of shared ownership!). Yet, these leaders spend 99x more time with their people than I do.
What I can do is channel their brain power to lead us to an answer. So I guide, prod, and push, but still don't assert. From these sessions, I've come to viscerally understand the difference between hearing great advice and reaching your own epiphany.
I believe the latter honors one's experience, builds capacity, and downright feels better.
2. Leaders need different support at different times.
What someone needs in a coaching session depends on who they are and where they're at:
So I've had to wear different hats as coach:
Sorter: "I've bucketed the strategies you've mentioned for attracting new folks into 3 categories. Is there a fourth that's more collaborative or community-driven?"
Decider: "Sounds like you're flip-flopping on which fundraising strategy to spend time on. How about we define criteria to help make this decision?"
Focuser: "You have a lot of interesting ideas to get people talking in the Slack community. How might we focus? What's the primary thing that members will come back for?"
Stickler: "Can I push you on your desire to 'keep gatherings small.' Why is that? It seems to be in tension with your overall mission."
Extractor: "We agree you must make this fundraiser more participatory. Let's jam. What are some ideas for how to achieve that?"
Backer: "Zoom out. You should know that this community you're cultivating is rad. Thank you for the work you do."
I hope to get quicker at reading what support leaders need. If I deduce what role I should play early in the conversation, I can push our conversations more confidently—not only arriving at insights faster but also exploring them at a deeper level.
(What's your experience as someone who's either given or received coaching? Are there other hats? 👒)
3. My challenge is to scale my impact.
While coaching an hour a day this year has already introduced me to more NYC communities than last year, I feel the weight of my limiting factor: time.
To do more with my finite hours, I mulling over:
How can I streamline my coaching process? Minimize/eliminate not-so valuable activities?
How do I prioritize who to spend 1:1 coaching time with?
How do I multiply my efforts to help people get people together?
I've already implemented mini-improvements (e.g. Calendly lets folks book time slots with me, cutting down on back and forth e-mails). But I believe the highest return will come from what I believe is at the heart of all community building: sharing ownership.
Can I work with others to support more community leaders? Perhaps that means getting cohorts of leaders together. Maybe collaborating with or training other coaches? If you have ideas on how I might scale up/evolve, please holler!
I'm not sure where this coaching thing leads, but I know I love it. A fun byproduct has been just making new friends. I've gotten to participate in new gatherings/activities/efforts in my city. So thank you to every person I've jammed with, friends who provided intros, and folks who have been supportive. If you, or someone you know, are interested in meeting up, learn more about my coaching here.
—
P.S. If you have recommendations on coaching resources/training/tips, please share with me at kevin@kiwimonk.com!
---
Hi friends!
To kick off the new year, I'd love to connect with and coach more community leaders/organizers who are cultivating a community they care about.
I've had the pleasure of coaching/advising a few incredible folks who get people together over the last few years.
From helping Jess and Brie scale their meetup to gather female changemakers in multiple cities, to strategizing with Hadley on how to shepherd the Edcamp education movement, to helping Jiwon prioritize as she launches accelerators for female and immigrant founders… These experiences helping organizers problem-solve, strategize, and persist in their journey to harness people-power has been among the most fulfilling of my career. 🚀
I definitely didn't have all the answers. They did. We discovered them together. Learning by helping others learn has been rad, and I'd love to spend more time doing so.
So, are you building a community? Do you know someone? Need help getting organized? Let's talk!
Here's what I'm looking for
Extra points if you're based in NYC. I like face to face and want to invest in my city.
Preference to folks bringing together a minority/POC or marginalized community.
I especially like working through ops stuff—structure, process, systems. (But not only that stuff.)
👍 if your group has an in-person element. All-online isn't my jam.
Kudos if you've already gotten started. The less hypothetical the better. I was an engineer. I need pieces to play with.
Doesn't matter whether this is a side project or full-time thing. You could be hosting a neighborhood meetup or at the helm of a global network of lawyer activists.
(You should still consider reaching out even if you don't neatly fit into this criteria.)
And here's how it'll work:
Likely free/pro bono unless you're running a profitable business.
We'll meet up/Google Hangout and go from there.
If you're interested send me an email (kevin@kiwimonk.com) with a few sentences about you, the community you're building, and what's on your mind.
Please share this note with anyone you think would be keen. Thanks for listening and doing what you do. Happy new year!
— Kevin
---
Bailey, Kai, and I at People & Company made a podcast about the nuts and bolts of community-building. It's been so fun 😬 interviewing a diverse group of fan club leaders, grassroots organizers, community managers and more. (And drawing thumb people versions of my business partners).
The first three episodes are available on Apple Podcasts and a bunch of other places. 🎙⚡️🚀 
Here's a clip from our pilot episode. Bailey's the main host, I co-host, and Elm special guests.
Thanks for listening. 🙌 More to come.
---
There's a palpable difference between a tight-knit community and a loose group of people with a shared interest.
This article in the NY Times by Hahrie Han illustrates this contrast. Hahrie, a gun-control advocate who studies grassroots movements compares the traits of gun-control groups with gun-rights groups.
"…recognize the difference between organizations that can activate only people who are in agreement and those that can transform people who are not."
Gun-control groups attempt to mobilize loosely affiliated advocates while gun-rights groups are built on a stronger foundation of relationships, responsibility, and places to gather in-person.
Gun-rights groups don't need to start with ideology. They can cultivate it through a sense of community. Han writes:
"There are more gun clubs and gun shops in the United States than there are McDonald's… My friends who support the N.R.A. did not join a club because of politics. They joined because they wanted somewhere to shoot their guns."
She also talks about how those who protest outside abortion clinics subscribed to their cause. Relationships shape our views.
"Most people assume that people who join groups like the N.R.A. are people who support gun rights — but that is not always the case.

Consider the anti-abortion movement. The sociologist Ziad Munson has found that almost half of the activists on the front lines of the anti-abortion movement — those who protest outside abortion clinics — were not anti-abortion when they attended their first event. They attended because a friend asked them, they had just joined a new church, or they retired and had more free time.

They stayed, however, because at these events, they found things we all want: friends, responsibility, a sense that what they are doing matters. By finding fellowship and responsibility, these people changed not only their views on abortion but also their commitment to act."
And how gun-control organizations often don't nurture leadership and identity in the same way:
"When I joined gun-control groups, I got messages about narrowly defined issues like background checks and safety locks… But none introduced me to anyone else in the organization or invited me to strategize about what I could do. Instead, I felt like a prop in a game under their control."
Finally:
"Building a movement will require organizations to invest in the leadership of ordinary people by equipping them with the motivations, skills and autonomy they need to act. Most organizations never give people that opportunity."
---